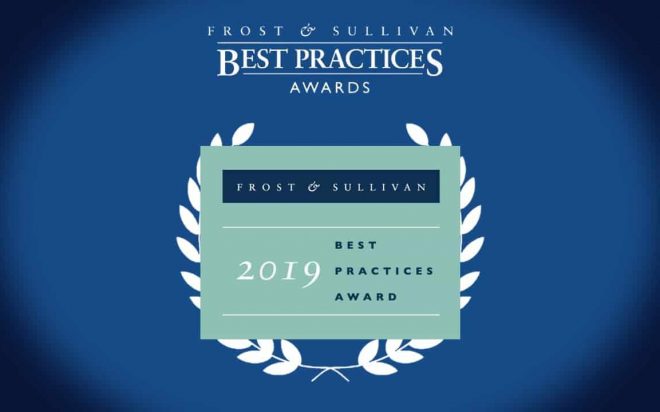 NAVYA, a leading company in autonomous driving systems, recently received the 2019 Global Autonomous Shuttle Product Leadership Award from Frost & Sullivan.
SALINE, Michigan, February 13, 2020 – NAVYA (FR0013018041- NAVYA), a leading company in autonomous driving systems, recently received the 2019 Global Autonomous Shuttle Product Leadership Award from Frost & Sullivan.
NAVYA's proven track record, recently acknowledged by the RTA Dubai World Challenge as the designer and maker of the most reliable fully electric autonomous shuttle with the best consumer experience, enabled the innovative company's rise to the top among the independent analysts from Frost & Sullivan.
For the Product Leadership Award, Frost & Sullivan analysts independently evaluated two key factors: Product Family Attributes and Business Impact. To assess Product Family Attributes, those criteria include: Match to Needs, Reliability & Quality, Product/Service Value, Positioning, and Design. The criteria for Business Impact include: Financial Performance, Customer Acquisition, Operational Efficiency, Growth Potential, and Human Capital.
"Since 2015, NAVYA has boldly pioneered the global expansion of its autonomous shuttles. In that time, it has earned public road approvals in countries such as Switzerland, France, Sweden, Australia, Japan, Canada, and the United States. Rather than playing it safe in a single market, NAVYA braved strict regulatory hurdles in over 20 countries and counting," says Nicolas Inchaustegui. a Frost & Sullivan Consultant for Mobility, Automotive, and Transportation.
One example of NAVYA moving the proverbial needle on smart mobility in the United States is in its work with partner BEEP, an autonomous mobility solutions provider, on its Lake Nona project, a nationally recognized smart city located in Orlando who's utilizing NAVYA's AUTONOM SHUTTLE technology. Lake Nona has two shuttles in service that operate 8-hours daily on mixed use public roads, and recently moved its 10,000th passenger in just over 5 months of operation. Beep has plans in process to add additional shuttles and new routes in the coming months.
Since the company's founding, NAVYA has focused its efforts across research & development, design, build quality and deployment with one purpose in mind: deliver the best fully autonomous shared mobility experience possible. Being the first to reach the market with its signature AUTONOM Shuttle, NAVYA proved its concept and its ground-breaking product by selling 160 vehicles in over 20 countries within five years.
"The entire team at NAVYA in both our French and American offices are proud to be honored with this award from Frost & Sullivan. It speaks to the ongoing dedication that every NAVYA employee has to realizing our vision of a fluid, safe, autonomous future where vehicles such as our AUTONOM Shuttle can help people and goods moving with less congestion and pollution," says NAVYA COO Jérôme Rigaud.
The conclusion of the analyst report that accompanies the Frost & Sullivan award concludes that "NAVYA is an established market leader in the competitive autonomous shuttle space. While major participants, such as tech companies and OEMs, are working on developing a wide scope of offerings, NAVYA has focused its efforts on creating best-in-class autonomous shuttles for short-range transportation."
To read the full text of the report, please visit: https://ww2.frost.com/wp-content/uploads/2019/11/Navya-Award-Write-Up.pdf
About NAVYA
NAVYA is a leading French name in the autonomous driving systems. With 280 employees in France (Paris and Lyon) and in the United States (Michigan), NAVYA aims at becoming the leading player for the supply of autonomous driving systems for passenger and goods transport. Since 2015, NAVYA has been the first to market and put into service autonomous mobility solutions. The AUTONOM® SHUTTLE, main development axis, was launched in September 2015 and nearly 160 units have been sold as of 31 December 2019, notably in the United States, France, Germany, Switzerland, Japan and Australia. The AUTONOM® TRACT is dedicated to goods transport. Created in 2014 with the support of Robolution Capital, investment fund managed by 360 Capital Partners, his reference shareholder, NAVYA's shareholders also include the Gravitation fund and Paris Region Venture Fund (Région Île-de-France) managed by Cap Decisif Management as well as Valeo and Keolis groups.
NAVYA is listed on the Euronext regulated market in Paris (ISIN code: FR0013018041- NAVYA).
For more information visit: www.navya.tech/en
About Frost & Sullivan
Frost & Sullivan, the Growth Partnership Company, helps clients accelerate growth and achieve best-in-class positions in growth, innovation and leadership. The company's Growth Partnership Service provides the CEO and the CEO's growth team with disciplined research and best practices models to drive the generation, evaluation, and implementation of powerful growth strategies. Frost & Sullivan leverages nearly 60 years of experience in partnering with Global 1000 companies, emerging businesses, and the investment community from 45 offices on 6 continents.
To join Frost & Sullivan's Growth Partnership, visit http://www.frost.com
Contacts
NAVYA
Travis Ockerman
NAVYA, Inc.
travis.ockerman@navya.tech
734-787-0047