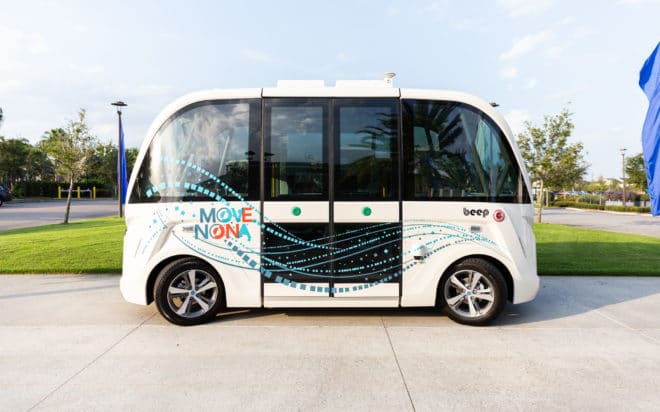 Navya, Inc. introduces Employee Spotlights to demonstrate the skills needed in key positions in the autonomous vehicle industry. A focus […]
Navya, Inc. introduces Employee Spotlights to demonstrate the skills needed in key positions in the autonomous vehicle industry. A focus has been placed on new job demands as the autonomous industry is heating up and therefore requiring a new set of job skills. Our first employee spotlight will feature our Technical Department at Navya, Inc. in Saline, Michigan
John Balon, Technical Deployment Manager, is quickly a rising star at Navya as he has commissioned multiple projects for various events such as the 10th European American Networking and Wine Tasting Event at the famous Meadowbrook Hall in Rochester, Michigan, the ACT International Show at Disney in August, client commissioning for the Keolis shuttle project in the City of Montreal near Plaza St-Hubert, the Valeo Customer Event, MCITY in Ann Arbor, and Beep-Nemours route re-commissioning at Lake Nona, Florida.
In addition to commissioning routes for our vehicles, which consists of creating a detailed, 3-D mapped route to ensure feasibility and looking for anything that might interfere with the route's safety and passenger experience, John also is skilled at Supervising the routes on the road for all Navya Autonom® Shuttles in the U.S. and Canada. Supervision requires you to be alert to the vehicles as they travel and be responsive of any needs that come up along the route or in the vehicle. Both roles serve on the Technical Team at Navya, Inc. and knowing both roles make John a valuable member of the team. John was recently promoted to Technical Deployment Manager, managing a team of technical specialists.
We asked John a few questions about the job skills necessary to be effective at both roles here at Navya.:
What skills do you need to commissioning routes effectively and successfully deploy autonomous vehicles?
The commissioning on site is a process-oriented role. You need to follow the steps of the operational design domain (ODD) –a document that defines all conceivable overlapping conditions, restrictions, and scenarios that an AV could encounter on the specific route to ensure the environment it will operate in is safe for passengers.
You need to be decisive, good at math (conversion of speeds and distance to KM to miles, meter per sec to miles per hour), have good computer skills and be good with many different software programs.
Having automotive background is helpful, commissioning an autonomous vehicle is using computer technology plus automotive technology together.
---
What skills do you need to do well in the job supervising autonomous vehicles?
For Supervision of the vehicles in route, you first and foremost need to have good people skills and customer service orientation. You need to help the client get through any issue that comes up along the route and you must be able to convey technical issues in layman terms. You must have strong knowledge of the vehicle specs and vehicle dynamics to be able to troubleshoot any scenario.
Good job skills would be observant, a quick thinker, multi-tasker, detail oriented, and also have the ability to understand different software and basic math.
---
What do you like about working in the autonomous vehicle industry?
It is exciting to deal with technology that is not adopted yet and being a part of paving the way of the future. Autonomous technology is on the ground floor.
When regulations loosen it will be an exciting time for Navya and others in the space.
---
How does your Education relate?
I was in the Marine Corps for 8 years as maintenance manager
I have an Associate's Degree in Mechanical Engineering, and I Graduate in December 2021 with a BS in Technology Management, which is about analyzing technology when and where to use it.
These three together has been a perfect fit for Navya and my technical roles.
---
What do you like to do in your free time?
I love Northern Michigan for boating, fishing, and golfing.