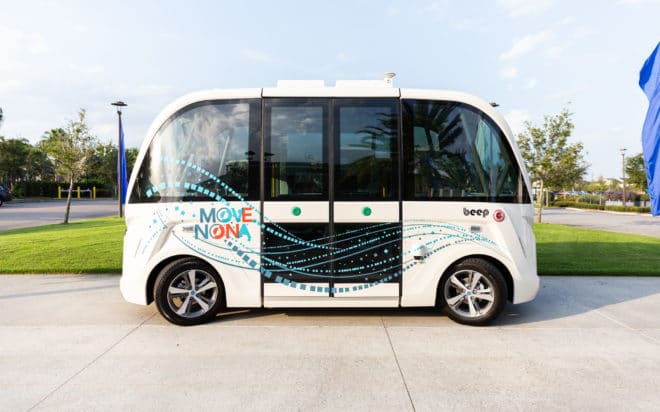 Navya, Inc. Employee Spotlight Series demonstrates the skills needed in key positions within the autonomous vehicle industry. A focus has been placed on new job requirements as the […]
Navya, Inc. Employee Spotlight Series demonstrates the skills needed in key positions within the autonomous vehicle industry. A focus has been placed on new job requirements as the autonomous industry is accelerating. Our second employee spotlight will feature our Sales Department at Navya, Inc. in Saline, Michigan.
Sarah Yager, Sales Manager – U.S. East Coast / Canada, has been at Navya for 3 years and has worked with hundreds of customers during her tenure. Autonomous Vehicle sales is very technical and one with a long sales cycle. Helping customers understand the technology while identifying the most successful routes for a good customer experience is critical.
We asked Sarah a few questions about the trends she is seeing in the industry:
First Sarah, how did you end up in the autonomous vehicle industry?
I have been in the transportation industry for years, getting my start at Enterprise Rent-A-Car out of college. During my time there, I moved from the traditional "retail rental" department to working with corporations and the way that they accomplished their corporate travel. This transition eventually opened the door to work with more tech savvy alternative transportation solutions such as CarShare.
The response was positive to this new and innovative way to get around and I learned so much more about the mobility challenges that exist in our world today. When the opportunity at Navya presented itself, electric and autonomous seemed like the most natural next step for me – and here I am!
---
You have been at Navya for a few years now, what have you noticed in this last year talking to potential customers?
This last year has been a real turning point for both the Electric (EV) and Autonomous (AV) industries. The idea of electric fleets and autonomous shuttles is no longer something that people are "just gathering information about," it is real and tangible. Many of the discussions that we were having with clients pre-covid are now back on the table. Our customers have done their homework, they know what it takes to deploy these types of machines, they see their value, and they are ready to move forward.
---
What industries do you think the
Navya Autonom(R) Shuttle are the best fit for and why?
In my experience, our shuttles are a great fit for campus type environments such as universities, hospitals, and corporate offices. However, we are seeing remarkable success operating in many different segments. Each deployment is unique and has its own set of benefits for the audience that it's serving. Our longest and largest deployment is at Lake Nona, a 17-Square Mile Planned Community in Orlando, Florida. There they have 5 of our shuttles going to multiple routes serving the public while operating on public roads. https://navya.tech/fr/en/first-autonomous-vehicles-in-central-florida-now-in-service-in-lake-nona/
---
What are some of the typical first questions that customers ask on your first call?
There are a whole host of questions that I receive daily about our vehicles. I would say that the most frequent questions revolve around the need for an operator on board and the cost of the vehicles. Both can be tough questions because the reality is that implementing an autonomous route and preparing our consumers and workforce for new modes of transportation is an investment.
Many of our clients understand that and are prepared to venture into this new and exciting era, others are still getting to that point. My job is to guide them through that process, regardless of what stage they are in, and help them to see what a future with autonomous shuttles can look like.
---
What are some of the obstacles you see when doing a route review discovery with our operations team for a customer?
I love Northern Michigan for boating, fishMost of the obstacles that I see in route reviews are about the types of roadways that are considered. The Autonom(R) Shuttle is designed to provide low speed, short distance transportation and therefore needs to operate on roads that have reduced speeds and lower traffic volumes. The great news is that our operations team does a thorough job evaluating all routes and creating workable, safe solutions that our clients may not have considered.
With the new infrastructure bills recently passing in the U.S. where do you see Navya vehicles fitting in?
The Infrastructure Investment and Jobs Act (IIJA), was the single largest infrastructure investment in American history including major incentives for infrastructure, transportation, and telecommunications. Hundreds of millions of dollars are also pointed at AVs through the Strengthening Mobility and Revolutionizing Technology ("SMART") grant program.
Considering that autonomous shuttles are 100% electric and autonomous, the investments for electric vehicles should benefit many AV companies as well. I am excited to see such a focus and commitment to the evolution and implementation of EV and AV technology. I believe that these bills will begin to open doors in places that we have not previously had the opportunity and allow us to work with new partners that share in Navyas' passion of a forward-thinking and eco-friendly transportation mindset.
What is your favorite thing about working for Navya?
My favorite part about working for Navya is that I learn something new every day. In this industry there is never a shortage of innovation and excitement. Technology is ever-changing and evolving in front of our eyes and it is invigorating! Just this week Navya announced it is going to implement its remote supervision system for a fleet of shuttles in France, also referred as "shepherding", a decisive breakthrough for the industrialization of Level 4 solutions. This will be here too before you know it! https://navya.tech/fr/en/navya-announces-a-world-premiere-the-operation-of-a-fleet-of-autonomous-shuttles-without-an-operator-on-board-and-remote-supervision/
A little About Sarah
MIn her freetime, Sarah enjoys travel, spending time with her son, Hunter, and boating in the summer.