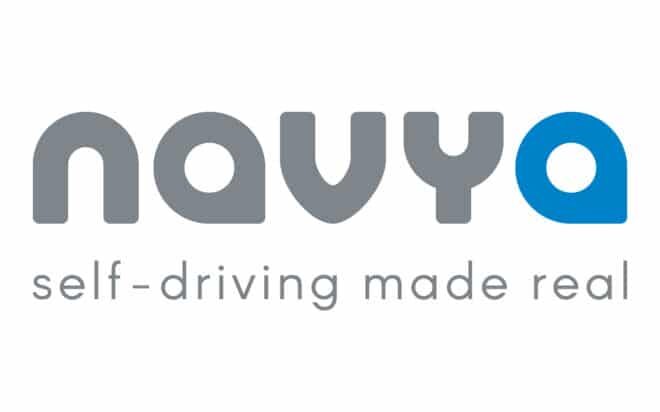 Villeurbanne, France, february 28, 2023 – 5.45 PM CEST – NAVYA (FR0013018041- Navya), a leader in autonomous mobility systems, and […]
Villeurbanne, France, february 28, 2023 – 5.45 PM CEST – NAVYA (FR0013018041- Navya), a leader in autonomous mobility systems, and its partner Charlatte Manutention, both forming the subsidiary Charlatte Autonom®, announce the deployment of their Tract Autonom® AT135 solution on Frankfurt Airport, Germany, as part of their collaboration with the airport operator Fraport.
The Tract Charlatte Autonom® AT 135 will connect future Terminal 3 to Terminal 2 of Frankfurt Airport over 8 km. Two routes have been deployed, for 2 different use cases:
– 1 trip with a convoy of luggage trailers, on an indoor and outdoor route.
– 1 trip on an outdoor cargo flow only, with large cargo trailers.
The solution will therefore have to cross paths with other vehicles, tractors, tankers, ground support equipment (GSE) and, of course, the airport site crew.
These routes integrate the different scenarios that an autonomous vehicle may encounter on an airport site and allow to validate the solution in real conditions by evaluating the technology, safety and economic profitability of the vehicle.
At the end of the trial, Fraport will be able to project the solution in the short term on different types of flows (baggage or cargo).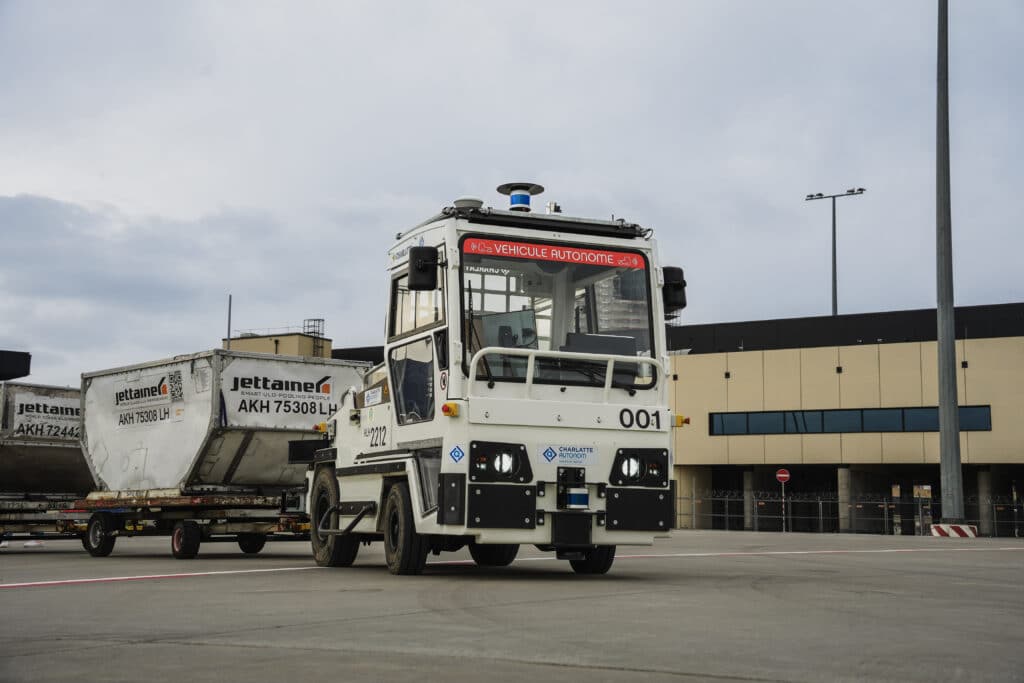 « With more than 75.5 million passengers in 2019, Frankfurt Airport, Germany's largest airport and Europe's third largest airport serving the most international destinations, is an ideal site to test and evolve the Charlatte Autonom® AT 135 Tract. Equipped with the latest Navya technologies, the Charlatte Autonom® AT 135 is perfectly adapted to the just-in-time constraints of airports and we are pleased to be able to demonstrate the performance of our solution in such a complex environment. »

Olivier Le Cornec, CEO – Chairman of the Executive Board
« This new opportunity will allow us to test the latest version of the Charlatte Autonom® AT 135 Tract under real and particularly demanding conditions, with the aim of demonstrating a high service rate with our solution. This is another step towards the deployment of automated solutions in the airport world. »

Bastien Devaux, General Manager of Charlatte Manutention :
---
About Charlatte Manutention
A Fayat Group company, Charlatte Manutention is the world leader in electric baggage tractors. With 170 employees in France, the United States and the United Kingdom, the company generated sales of €72 million in 2019.
Charlatte Manutention is constantly looking for innovative solutions for its customers and wants to continually excel by consolidating its know-how.
The company offers a wide range of handling equipment for airport, industrial and military use.
With a presence in 170 countries through its 231 companies, and thanks to the involvement of its 21,666 employees, the Fayat Group supports its customers worldwide with innovative and sustainable solutions for the construction market and in the seven major businesses around which it has been built: Public Works, Foundations, Building, Energy & Services, Steel and Mechanical Construction, Boilermaking and Road Equipment. In 2021, the Group generated sales of 4.6 billion euros. Fayat is the world leader and specialist in road equipment, offering a complete and high-performance range of equipment.
More informations : www.charlattemanutention.fayat.com
About Charlatte Autonom
CHARLATTE AUTONOM is a joint venture created in 2018 by NAVYA, a leader in autonomous mobility systems, and CHARLATTE MANUTENTION (FAYAT Group), a world leader in the design and manufacture of electric handling equipment for industrial and airport use, with the aim of developing autonomous tractor solutions for industrial and airport sites. As a result of this shared expertise and know-how, the AUTONOM® TRACT AT135 is an autonomous, electric, and supervised solution for the transport of goods.
About NAVYA
Created in 2014, NAVYA is a leading French name specialized in the supply of autonomous mobility systems and associated services. With 280 employees in France (Paris and Lyon), in the United States (Michigan) and in Singapore, NAVYA aims at becoming the leading player in Level 4 autonomous mobility systems for passenger and goods transport. Since 2015, NAVYA has been the first to market and put into service autonomous mobility solutions. The Autonom® Shuttle, main development axis, is dedicated to passenger transport. Since its launch, more than 200 units have been sold in 25 countries as of 31 December 2021. The Autonom® Tract is designed to goods transport. Engaged in an ambitious CSR approach, the Company has an active policy in this area, as illustrated by the obtaining of the ISO 9001 certification in September 2021. The Valeo and Keolis groups are among NAVYA's historical shareholders.
NAVYA is listed on the Euronext regulated market in Paris (ISIN code: FR0013018041 – Navya).
Read more on: www.navya.tech
Contacts