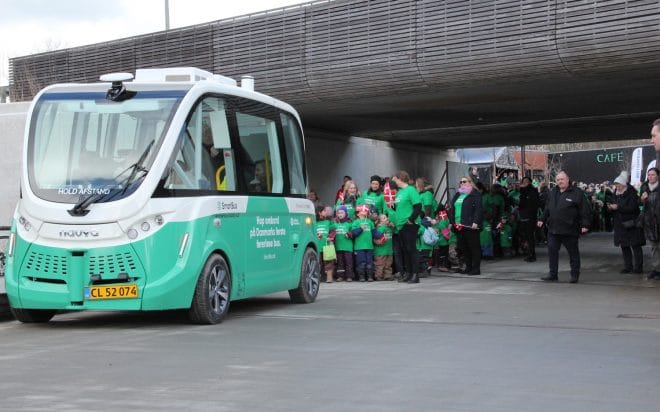 Today, the Danish Minister of Transport Benny Engelbrecht officially inaugurated the first autonomous bus service in Denmark, in the suburb of Aalborg East in Denmark.
Is it possible to transform a divided housing area to a socially sustainable and connected living space with autonomous shuttle buses?
A new pilot project initiated by Aalborg Municipality has high ambitions to do just that. The pilot project called SmartBus aims to increase mobility among the residents (of whom less than 50% have access to a car) and bring the neighbourhood closer together. Today the project was officially launched.
With the inauguration of SmartBus, NAVYA has provided 3 AUTONOM® SHUTTLES for the daily operation in mixed traffic in Denmark. Two of these self-driving vehicles are operating simultaneously on the route every day from 7:00 AM to 9:00 PM in a pilot of two years.
The shuttle buses share a path with cyclists, while pedestrians have their own designated path. The 2.1 km route has ten stops which have been built into the path with wheelchair accessible platforms.
Experienced forces behind the autonomous operation
As the leading operator of autonomous vessels in Europe, Holo has been operating autonomous shuttle buses from NAVYA over more than 28,000 km in 5 countries. Having transported more than 40,000 passengers in the buses, the Danish company is happy to pick up riders in their home market, too:
"The residents of Aalborg East now have an accessible and easy way of moving around the area, and because of the long service hours, people will be able to use the bus most of their day. We are so excited to finally hit the road," says Christian Bering, Director of Technology, Data and Operations at Holo.
"We are delighted to announce this first autonomous public road service in Denmark. It is the result of a long-standing partnership with Holo that paves the way for us in Denmark. Aalborg is an ideal environment to showcase the ways in which driverless vehicles integrate seamlessly in our daily lives and can serve as a model for other cities in Denmark," explains Arnaud Rouault, VP Sales EMEA of NAVYA.
Developing the urban area of Aalborg East
SmartBus is part of a larger urban development project in Aalborg East. The project helps to promote a sustainable development of the area.
Driving past a community center and library, a shopping center, as well as several housing areas and a care home for residents with dementia, the bus will be used by various types of residents across all ages and backgrounds.
The partners in the project hope that it will provide a sense of unity and local ownership surrounding the development of Aalborg East.
More information
Read more about the project at www.letsholo.com/aalborg-east.
The buses can be tracked in real time from Holo's free app Letsholo.
Press contact, NAVYA: MATRIOCHKA INFLUENCES AGENCY, Marie-Philippine Méchet, +33 (0)6 60 65 20 65, marie-philippine.mechet@mtrchk.com or Lisa Omara, +33 (0)6 52 25 07 66, lisa.omara@mtrchk.com
Press contact, Holo: Anne Rosa Simonsen, Director of Communications and Marketing, +45 2063 3133, ansi@letsholo.com
About NAVYA
NAVYA is a leading French name in the autonomous driving systems. With 280 employees in France (Paris and Lyon) and in the United States (Michigan), NAVYA aims at becoming the leading player for the supply of autonomous driving systems for passenger and goods transport. Since 2015, NAVYA has been the first to market and put into service autonomous mobility solutions. The AUTONOM® SHUTTLE, main development axis, was launched in September 2015 and nearly 160 units have been sold as of 31 December 2019, notably in the United States, France, Germany, Switzerland, Japan and Australia. The AUTONOM® TRACT is dedicated to goods transport. Created in 2014 with the support of Robolution Capital, investment fund managed by 360 Capital Partners, his reference shareholder, NAVYA's shareholders also include the Gravitation fund and Paris Region Venture Fund (Région Île-de-France) managed by Cap Decisif Management as well as Valeo and Keolis groups.
NAVYA is listed on the Euronext regulated market in Paris (ISIN code: FR0013018041- NAVYA).
For more information visit: www.navya.tech/en