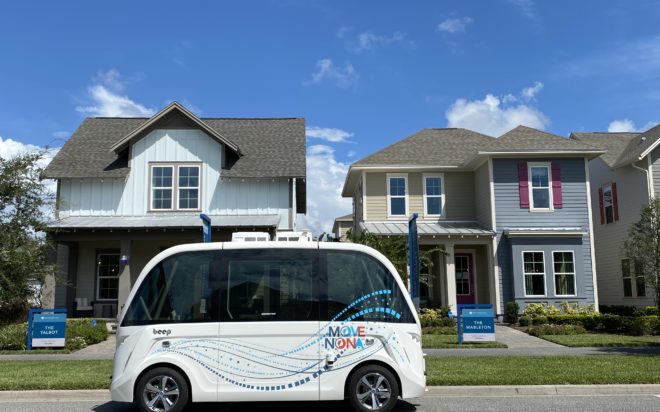 With new and available grants and funding, communities are looking toward the integration of new technologies to ready their transportation […]
With new and available grants and funding, communities are looking toward the integration of new technologies to ready their transportation systems for the future. Autonomous vehicles (AVs) are one of the technologies that is transforming modern communities. Making the decision to implement electric and self-driving vehicles into your transportation system requires thought and planning.
Here are 8 ways that we have identified as positive indications that your community or town is ready to join the growing number of forward-thinking cities who are adopting AV Technology as one of their newest forms of transportation.
1) Have you identified a transportation problem you need to solve?
i.e. not enough parking, first last mile gaps for mobility challenged, need to reduce emissions, make your community more desirable.

There are many good reasons to implement electric self-driving shuttles to connect people to places. In the end, it is about being able to provide safer, cleaner, and more efficient mobility solutions for residents. Whatever problem you are trying to solve, make sure that your goals and objectives are clearly defined and that they fit into the community. Note: The Navya Autonom® Shuttles require minimal new infrastructure, can get up and running quickly, are quieter and cleaner than traditional transport, and move at speeds that are slower and safer than private autos.
2) You understand your community movement.
Where you want to connect people, where people gather and where they need to go.

Knowing your town's hot spots is another key to creating a successful shuttle route. Perform research to record traffic flow in your area. What are the busiest times? Where are the bottlenecks? Where is there need for mobility solutions? What are popular events in your area? How far are parking lots to desired locations? First and last mile transport helps get people to and from their destinations. Proper scheduling, or on-demand service, can help with parking overflow, increase mobility for those who need assistance, and enable people to get out when they may have otherwise stayed home. You must plan the proper pre-defined paths that are safest, make the most sense, and help the most people get around.
3) You have identified a successful path where your shuttle can operate.
Self-driving shuttles work best for first mile and last mile commutes.

So, you've decided to adopt autonomous shuttles as a mode of transportation for your residents and you may even have envisioned the routes that you believe are the best ones. We often find that the route customers think is best might have a better, safer, and more viable path. It is with the knowledge of experts in an Operational Design Domain Team that will help you map the safest and best route for the shuttle to operate to give your riders the best possible experience. Using Lidar obstacle detection and multiple localization technologies, autonomous shuttles can drive on a predefined and programmed path that is mapped with special 3-D mapping software. Lastly, current US regulations state that low-speed shuttles can only operate on public roads with 25 miles per hour speed limits or lower.
4) You have some knowledge of what makes an autonomous route successful and a good experience for your riders.

i.e. Roadway types, speed range, environmental conditions (weather, time of day, etc.)

Autonomous vehicles do need certain equipment and parameters to function well. The Shuttle communicates using Real-Time Kinematic (RTK) positioning via either a Global Navigation Satellite System (GNSS) that is placed in a strategic location, or via a Network Transport of RTCM Internet Protocol (NTRIP) if the community is equipped with this technology. Obstacles such as a canopy of trees, an entire path of very high buildings or street tunnels can cause the vehicle to lose communication. The vehicles also have Lidar sensors that guarantee precise positioning and obstacle detection for the vehicle. Certain weather conditions, such as heavy rain, can hinder proper operation.

Note: Working with institutions is also an important part of a successful AV deployment. The National Highway Traffic Safety Administration (NHTSA) must approve waivers to operate autonomous vehicle to ensure the safety for passengers and other road users.
5) You have buy-in from community stakeholders.
Transportation planning projects need to include both buy in and frequent communication with community stakeholders outside of the original planning committee. For instance, local municipalities and transportation departments are great areas to start when looking for partners on mobility projects within your community. Also, local police and fire departments need to be made aware of, and involved in, the execution from a safety standpoint. Lastly, area businesses need to be made aware in advance of the of the project as they can be an important part of a marketing success for your shuttle routes.
6) You have a budget and/or financial contributors to your project.
Autonomous vehicles are funded in different ways. You should consider the following: grants, private funds, and/or corporate sponsorships. In addition, there are financing options to consider such as a purchase or lease. As you begin to formulate a budget for your project you should consider the hardware, the software, commissioning, operation, maintenance, storage, and plan to leave some budget for a marketing launch that invites the community.
7) You know who is going to manage your shuttle, its operation and maintenance.
You have your goal, you have the best route, you have your plan to involve all the stakeholders, now, who is going to operate and monitor the shuttle on a consistent basis? Will you be hiring an outside operator to manage your vehicles? If you are managing your own operations, you will need to be trained and certified to do so. Current laws require a safety operator on board, SAE Level 3, to mitigate any route problems or situations, which will require proper training. What about vehicle maintenance? Navya, Inc. offers training for all levels of operation: commissioning, supervision, safety operator and maintenance training.
8) You have a place to store and charge the vehicles nightly.
The very last detail, but one that should not be overlooked, is the charging and storing of the shuttle(s). Do you have a facility that meets the charging requirements for the autonomous vehicle (Navya Autonom® Shuttle is a 220, 230 or 240-V outlet for charging)? Do you have a garage or shelter that has a clearance of 12 feet high to store your vehicle each night? Indoor storage is highly recommended and one that properly fits the vehicle safely.

We get many requests for information at Navya for self-driving shuttles, and we answer many of these questions on the first call. We have found that many city, transportation, and development project planners could use more details in advance of the call to help them plan, and maybe even convince others, that this is a viable solution for their application. This article was inspired by this need.

We look forward to educating you further on autonomous shuttles, and even goods transport, in your community, city, or private site.