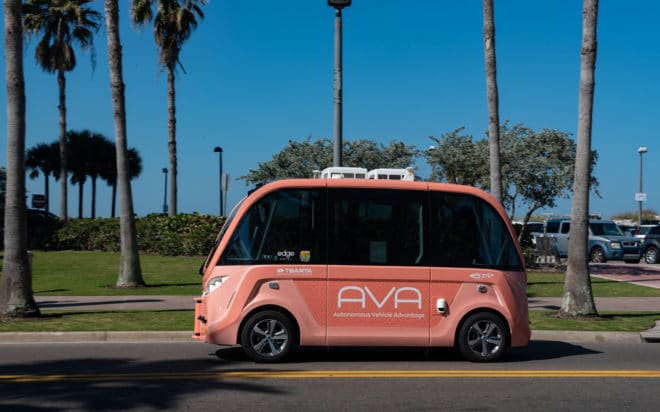 Navya, Inc. Employee Spotlight Series demonstrates the skills needed in key positions within the autonomous vehicle industry. A focus has […]
Navya, Inc. Employee Spotlight Series demonstrates the skills needed in key positions within the autonomous vehicle industry. A focus has been placed on new job requirements as the autonomous industry is accelerating. Our fourth employee spotlight will feature our Marketing Department at Navya, Inc. in Saline, Michigan.
Jeremy Layman, Sales & Marketing Coordinator, has been at Navya for 2+ years and is a key member of both the sales and marketing teams. During his time at Navya, Jeremy has assisted on several projects supporting multiple departments such as Sales, Marketing, and Operations. Daily you will find Jeremy working on sales quotes for current customers or planning our next marketing event. In addition, Jeremy serves as the main contact for the National Highway Traffic Safety Administration (NHTSA) helping Navya customers gain approval to operate our autonomous shuttles on US roadways.
As Jeremy as seen the many sides of the autonomous industry, we asked Jeremy a few questions about his experience at Navya Inc:
How did you end up at Navya? 
My background is in Customer Service, where I spent 5 years at ZCC USA. And when Navya was looking for a new Account Manager, I thought this would be a very interesting and good next step in my career.


Tell me a little about your role at Navya.  
I am the Sales & Marketing Coordinator for Navya which involves many different roles and responsibilities. On the sales side I am the Salesforce Admin, as well as main contact for creating quotes for customers for parts and services. On the marketing side I am the event coordinator, in charge of marketing events throughout the year, budgets, and writing and managing North American focused social posts. And since we are still a startup company, I am also the main contact for NHTSA, creating and submitting requests to deploy our shuttles on public roads within the USA.


In your marketing role, what do you see as key markets for autonomous shuttles? 
So far, the best markets have been large-scale community developments, where our shuttle can operate at a nice safe speed, white transporting residents to sporting and shopping events with the area community. The developments in Orlando have proven this model time and time again. Also, university campuses. The University of Michigan ran a two-year program on campus where they collected consumer acceptance, gaining trust for autonomous vehicles and Texas A & M also ran a pilot. We have recently spoken to multiple other universities interested in trying our technology in a useful way transporting students, faculty, and guests.


Why do you think communities should adopt autonomous shuttles into their transportation options?  
I believe communities should adopt autonomous shuttles to modernize transportation options as well as reduce emissions and vehicle accidents. Also shared transportation can help with traffic congestion in a community and add to a green style of living.


If someone told you they were afraid to ride an autonomous shuttle what would you tell them?  
That a shuttle is safer than any other modes of transportation available. Our shuttle takes out human error. And because we only travel at 15 mph max, we are not moving fast, and any safety risks are minimal. Our shuttle seats 10 with a seat belt and that leaves one seat for the attendant. Once people get on and try our shuttle, they always feel more safe and secure about autonomous vehicles.


What is your favorite part about working at Navya?    
Every day at Navya is different. Each day I am working on a new project or task, and it keeps it very interesting. I have been able to use my creative skills and design vehicle wraps, trade show booths, t-shirts, and even create videos and posts for social media. It is also very cool to be a part of a company that is changing the future of transportation.


What would you tell someone trying to get into marketing for an autonomous vehicle company?
Be ready for anything, as well as taking on additional roles in a startup environment. In addition, you must stay on top of the industry landscape. There is something new happening every day in this industry, from trucking, to shuttles to delivery pods, there is a lot to learn and keep track of. Navya has both a shuttle and a tow tractor type vehicle for industrial sites or airports. I am responsible for keeping a "KYC," Know Your Competition, spreadsheet going with all new developments.


What is your favorite part about working at Navya?
EVERYTHING!! I have learned so much from our Marketing Manager, Lisa, and her enthusiasm for her position is contagious, which makes work enjoyable.  But the biggest lesson is probably how to run a successful marketing campaign to gain more leads and interest.


What do you like to do outside of work?  
I love spending time with family. We have 4 kids at home, so our house is always full of life, noise, and energy. I also love to spend my free time working out at the gym or working on a new construction project at home. Lastly, one of my passions in life is coaching swimming.  I have coached swimming for over 25+ years both professionally and part time, teaching hundreds of kids, from beginners to State Record holders. Currently I am the Advanced 10 & Under Coach for our local swim team, Dundee Dragons, where I am able to coach both of my youngest children.