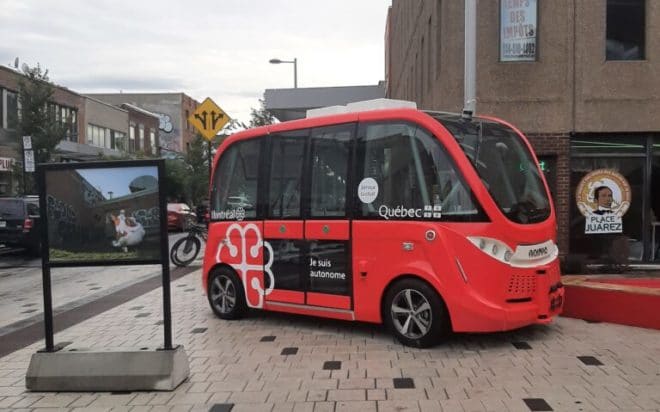 Explain what you do here at Navya in Saline, Michigan? I do general maintenance on the vehicles and general repair; […]
Explain what you do here at Navya in Saline, Michigan?
I do general maintenance on the vehicles and general repair; I provide maintenance support and consultancy on suspension and chassis repairs. I also do on-site support for customers and train the customer workforce. Training Navya customers to understand their vehicle and do simple or complex maintenance tasks is one of our service offerings.
---
How would you describe the differences between doing maintenance on a combustion engine or vehicle compared to working with an autonomous vehicle like our Autonom® Shuttle?
With Autonomous vehicles, Electric drivetrain components have far fewer parts than what is found in a modern internal combustion engine. It is a marriage of familiar things common automotive parts and top-end sensory technology. In an electric vehicle, it has one moving part, the rotor spins within the stator and creates motion from electrical energy from the battery. Far less complex than the explosion of an air fuel mixture in internal combustion engines. An electric vehicle saves on air pollution.
---
What are the challenges with working with autonomous vehicles?
The toughest part is understanding the software and the sensors from different manufacturers talking to each other on the platform. Our software was designed to seamlessly integrate the multi-sensor technology, but we have to understand it also to be able to troubleshoot any issues that arise.
---
What type of knowledge do you need to get into the field of maintenance for autonomous vehicles?
You need a good understanding of different sensors on a machine, how they interpret their environments, the information gathered by the sensors and how those sensors are used together.
People looking to get into the field should look into Autonomous Vehicles Technology programs. Automotive engineering is going in this direction and the industry will need people in my position.
Courses that familiarize one with Radar, lidar, camera, computer sciences, and electrical infrastructure will be a benefit.
---
What is the most rewarding part of your job?
It's fantastic to be a problem solver. Getting a vehicle up and running after any issue is a challenge for sure. But finding the solution in the end makes up for the struggles endured during the difficulties of tackling the issues at hand. The task looks daunting, and you think it will be difficult, but you find a way to solve the problem quicker that you thought. Maybe you don't know what the problem is, and you spend hours thinking about what it could be and then the answer comes to you in an epiphany!
It is nice to know that your work is good, and your vehicle is on the road.
Working for a business that revolves around lowering carbon emissions and bettering communities with sustainable transportation is also rewarding. You feel like you are making a difference.
Tell us a little about yourself   
I like to collect and race cars. I was a professional driver, and performance driving instructor for over 22 years. I support animal rescues through stand-up comedy performances at charity events. And when I'm not chasing down the fastest lap times, I spend my off-track weekend time as an automotive journalist for one of the largest online automotive publications.